! Verschoben auf September 2016 !
31.05.2016
Dear Friends,
As you know, the Naropa Ornaments ceremony which was scheduled in July has been postponed to September. Two reasons account for this: on one hand, His Holiness Dalaï Lama has been invited to Ladakh in July, therefore, His Holiness Gyalwang Drukpa has prefered to avoid having both events simultaneously. On the other hand,at Hemis, the construction works of the building for the Ornaments ceremonies have been considerably delayed due to weather hazards.
So the event will finally take place on September 16, the day of Pema Karpo's birth.
I am fully aware that such a change of date has entailed difficulties for many of you. Therefore I invite you to avoid nourishing any bitterness whatsoever, but on the contrary to accept this situation as genuine Dharma practitioners. Even though some of you have lost money due to the cancellation of your flight ticket, let us not forget that the organisation committee in Ladakh has also been hit with severe losses.
In spite of this, I do hope many of you will be able to attend this ceremony which only takes place once every twelve years. As for me, it will be the fourth time I attend this event. The first time was in 1980 when I was 26 and His Holiness 17. The second time was in 1992, the third in 2004. And so 2016 will be the fourth time. In a certain way, I must admit I am very fortunate. This must be due to the particular connections I have with His Holiness and the Drukpa Lineage.
This ceremony which can liberate through sight is a source of immense blessing. I express my wishes that a large number of you may attend.
Drubpön Ngawang Tenzin Pagsam Yongdu
 September 2015
Dear Dharma friends,
As you all know, the Naropa Ornaments ceremony will take place next this in Ladakh.
This is the fourth time His Holiness will wear these sacred ornaments.
The history of the "Six Ornaments" dates back to the XIth century. At that time,  the Tibetan translator Marpa went three times to India where he met the great Mahasiddha Naropa from whom he received all the Teachings, in particular the Mahamoudra instructions and the Six Yogas of Naropa.
On his last meeting with Marpa, Naropa offered him the precious headdress woven from the hair of one hundred thousand dakinis. Marpa brought the precious relic back to Tibet and passed it on again to Lama Ngokpa, one of his close disciples. Four generations later, the Ngokpa lineage holder met the 2nd Gyalwang Drukpa, Kunga Peljor who became his main disciple. He transmitted all the Mahamoudra teachings and the instructions on the six cycles of the One taste. Lama Ngokpa recognised in his disciple the reincarnation of Naropa and he offered him the precious headdress. Kunga Peljor wore it for great ceremonies so that the largest number of people should accumulate merit. So did the 3rd Gyalwang Drukpa, and then the fourth Omniscient One Pema Karpo added five other bone ornaments : the apron, the necklace and the different bracelets. Since then, the successive Gyalwang Drukpas have worn these precious ornaments which liberate through sight.
His Holiness will wear the  "Six Ornements" for the fourth time in Lhaddak where three quarters of the  people are Drukpa. This ceremony takes place every 12 years in the year of the Monkey. Special ceremonies are conducted as hommage to Guru Rinpoche, especially on the tenth day of the fifth month. On this commemoration day of Guru Rinpoche, the tangka bearing His image is unfurled at Hemis. This ceremony originated 300 years ago with Taksang Repa.
His Holiness wore the Six Ornaments for the first time at Hemis, at the age of 17. I myself attended this exceptional event, and on the occasion I witnessed, as the attending crowd, multiple miraculous signs appear in the sky.
Twelve years later, at Hemis still, a small temple was built specifically for His Holiness and the ceremony which took place before more than 100 000 people.
In 2004, the ceremonies were held at Shey where the "Naropa Palace" was built for the event.
In 2016, the ceremonies will be held nearby Hemis where a building is currently under construction. More than 150 000 people are expected.
As for me, this will be my fourth attendence to this celebration. Attending this ceremony is an opportunity to accumulate great merits, and a source of blessings. It is a unique opportunity to express one's wishes and aspirations and to create connections with our future lives.
When His Holiness came last August, He requested that I organise and accompany a group of Europeans for these ceremonies. After the ceremonies, His Holiness has planned a Pad Yatra for which He has also requested me to also organise a programme for those who would wish to take part. I have appointed Joël Huguet to be in charge of all this and you will hereby find the registration information and details for the different options.
I invite all those who can to attend this ceremony of the Naropa Ornaments. However, it is important not to feel under any constraint. If financial or health reasons should impede you from undertaking this pilgrimage, it does not mean that you will not receive its blessings, for as you know, these come with pure devotion, and travelling to Ladakh is therefore not a necessity in this respect.
Be assured of my sincere friendship.
With all my prayers,
DRUBPÖN NGAWANG TENZIN PAGSAM YONGDU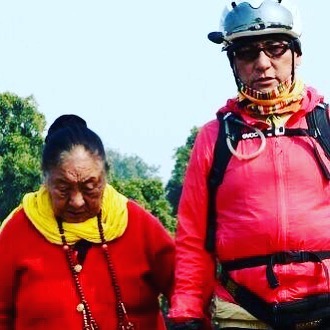 My beloved mom, who lives her entire life following the Dharma, was the first who taught me about kindness, love and compassion. She has been holding my hands, nourishing my mind with positive thoughts and watching me with so much care so that I would never fall off track. Today, she continues to hold my hands to walk the right path, with positive motivation to benefit all beings. She constantly reminds that there is no perfect enlightenment if enlightenment is only for oneself. I love my mother not only because she is my mother and she loves me unconditionally but also because she sets herself as a good example for her child, i.e. me, to follow.
.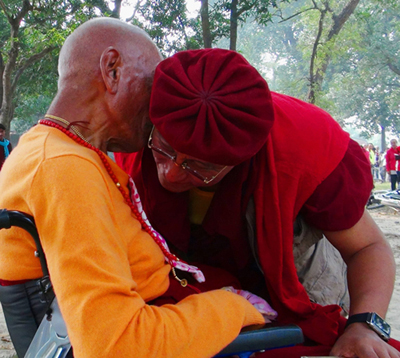 My father, Zhichen Bairo Rinpoche, has been giving me full support and encouragement for my entire life, for anything I wish to do, but with only one condition, that it must be motivated by the altruistic wish to benefit others. He never fails to remind me that genuine happiness for oneself must depend on others' well-being. I was born at the holy Lotus Lake (Tso Pema) in Mandi, North India, just at the time when my father was performing the Vajra dance as "Guru Tsokye Dorje" or "Guru Lake-Born Vajra". He had requested His Holiness the late Dudjom Rinpoche to allow him to do this part of the ritual. Later on as I grew up, he would often playfully tell me, "While I was dancing as Guru Tsokye Dorje you were born in a corner of the lake." That is why I sometimes use the name "Lake-Born Vajra".
Bei der Fahrradpilgerreise in Indien – Januar/Febraur 2016
.
.
.
Erleuchtung jeden Tag: Der Weg zum inneren Frieden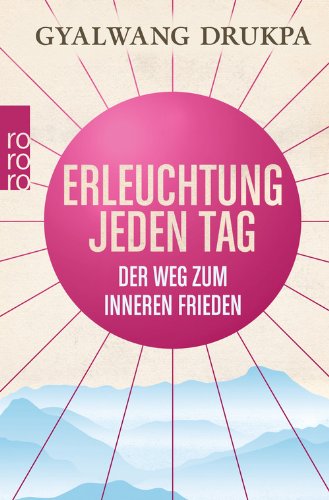 .
Der Andere Pfad: Ein Führer auf dem spirituellen Weg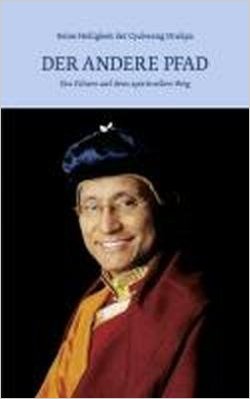 .
.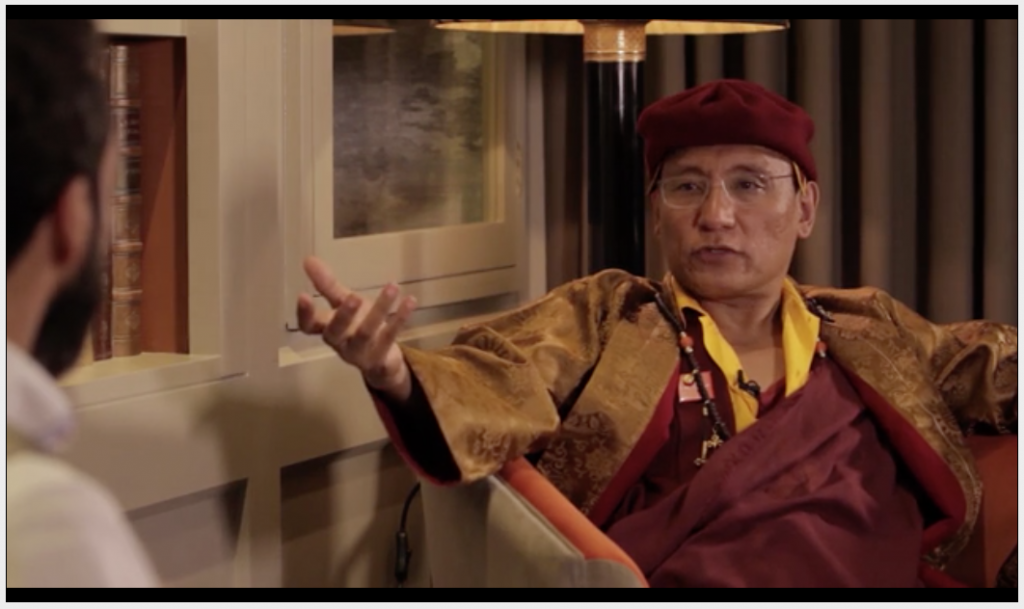 .
.
.
.
…………………………………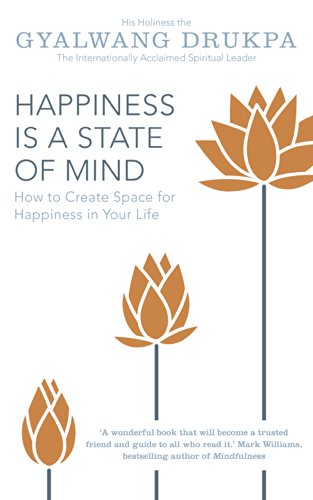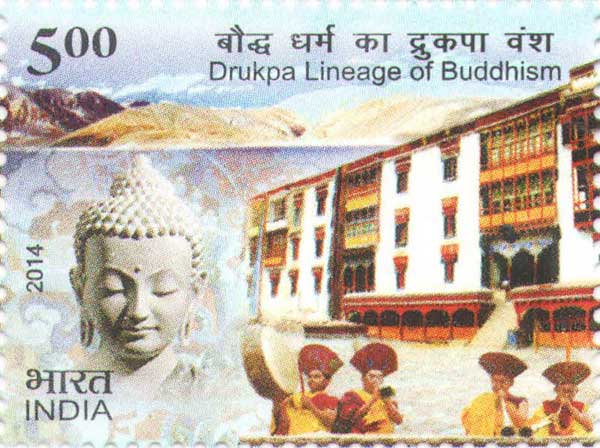 It was definitely a pleasant surprise when I was informed that the Indian government was going to issue a commemorative postage stamp in the name of our order.
I am very moved by the recognition that the government gives to my order, which has been based in the Himalayan region with branches all over the corners of the world. I would call upon all of my students and friends to thank India for this honour. I hope that this would become an inspiration for all of us, to continue working for the welfare of all the beings. From the depth of my heart, I also pray for harmony and prosperity of India, my birthplace and the largest democracy in the world.
(S.H. Gyalwang Drukpa)
.
September 2013  — South-South Awards, New York
Führungspersönlichkeiten aus aller Welt treffen sich in New York für Auszeichnungen in den Bereichen Humanitäres, Politik und technische Errungenschaften.
Live to Love International wird durch Seine Heiligkeit Gyalwang Drukpa repräsentiert, der viel Anerkennung dafür bekommen hat.
…………………………………………………………
.
NEWS, NEW YORK:
Die ,Waterkeeper Alliance' (gegründet von Robert F. Kennedy, Jr.) hat gerade Live To Love International und Seine Heiligkeit  Gyalwang Drukpa zum "HÜTER DES HIMALAYA" ('The Guardian of the Himalayas') ernannt und ihn dafür ausgezeichnet.
Ab jetzt findet eine Zusammenarbeit darin statt den Gesundheitszustand der Wasserressourcen und Quellen im Himalaya zu schützen und die internationale Aufmerksamkeit darauf zu lenken.
.
Waterkeeper Alliance, New York:
Gründer: Robert F. Kennedy, Jr.
Ausführender Direktor: Marc Yaggi

.
.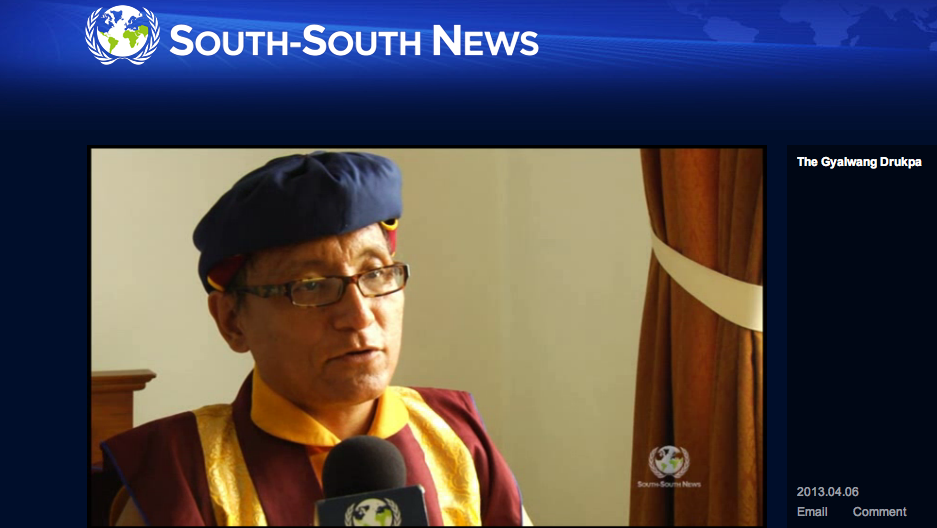 Seine Heiligkeit gab am 06.04.2013 ein Interview zum Pad Yatra in Sri Lanka
> Klicken Sie dafür auf den roten Schriftzug
.
Ein Artikel Seiner Heiligkeit Gyalwang Drukpa, auf englisch erschienen unter:  

www.drukpa.org
Übersetzung ins deutsche von Kunzang Senge
15. September 2012
Die Natur war schon immer sehr freundlich mit uns. Wir leben von der Natur, oder besser: wir sind Teil der Natur. Ich würde sagen: "Wir sind Natur!" Seit Beginn der weltlichen Zivilisation waren wir für unser Überleben und Wohlbefinden vollkommen von der Natur abhängig.
Unser Ego sagt uns: "Ich stehe über der Natur. Ich stehe über allem. Ich bin der Größte. Ich habe die Kontrolle. Ich habe alles Recht, die natürlichen Ressourcen zu nutzen." Ich erinnere mich an die Zeit, als wir selbst in Indien das Wasser und den Dünger nicht kaufen mussten, wir waren damals ziemlich glücklich. Ja, ich meine, wir waren glücklicher, als heute.
Neulich las ich einen Artikel über Genmanipulation von landwirtschaftlichen Produkten. Das hat mich sehr schockiert. Ich muss hinter dem Mond leben, wenn ich nicht wusste, dass selbst unsere Nahrung produziert wurde und nicht mehr natürlich ist. Vielleicht werden wir in naher Zukunft auch unnatürlich, fremd und abnorm. Soweit ich mich erinnere, war früher alles biologisch, was wir aßen und genossen; und heute müssen wir einen hohen Aufpreis bezahlen, um biologische Produkte zu bekommen. Was bedeutet das? Wir brauchten Jahrzehnte um Formeln und Rezepte zu erfinden, die unsere Lebensmittel besser machten, unser Leben bequemer und unseren Job leichter machten. Nachdem wir Milliarden in diese Forschungen ausgegeben haben, finden wir heraus, dass es uns ohne diese neuen Erfindungen und Produktionen besser ginge. Ich will nicht sagen, dass alle Erfindungen schlecht sind, aber ehrlich, einige sind ziemlich merkwürdig.
Durch die seltsam egoistische Art unserer Lebensführung haben wir die unterschiedlichsten Krankheiten entwickelt, die uns täglich, ja minütlich heimsuchen. Dies ist unser Karma. Dies sind die Folgen unserer Handlungen. Auf  pessimistische Weise betrachtet verlangen wir danach.
Wir haben sehr lange und viele Leben lang Vorteile aus der Natur gezogen. Wir können es nicht anders machen, da unser Ego so stark und ausser Kontrolle ist. Unser Ego sagt uns, wir wollen dies und jenes, wir brauchen mehr und besser. Durch den Missbrauch der Umwelt haben wir nun so viele Katastrophen. Es ist unfair, sie "Naturkatastrophen" zu nennen, da wir die Natur ziemlich krank gemacht haben und wenn die Natur krank wird, dann wird es katastrophal. Auf diese Art drückt die Natur ihren Kummer aus.
Der Natur zurück zu geben war schon immer in meinem Sinn und die wichtigste von all meinen Prioritäten. Da ich nicht wissenschaftlich ausgebildet bin, gebe ich der Natur auf meine primitive Art zurück, durch Baumpflanzen und Pad Yatras. Vielen Leuten erscheint dies als eine dumme Lösung, da sie sehr einfach und nicht kompliziert ist. Aber wie ich schon sagte, wir machten unser Leben kompliziert, da wir dachten, dadurch eine Menge zu erreichen. Anstatt aber eine Menge im positiven Sinn zu erreichen, erhielten wir schließlich viele merkwürdige und unheilbare Krankheiten und leben in einer Welt voller Katastrophen.
Ich möchte meine Freunde und Schüler einladen, sich mir bei den sehr herausfordernden Bemühungen, der Umwelt der Himalayas zu helfen, anzuschließen. Das Ökosystem der Himalayas beeinflusst das gesamte globale Ökosystem. Es ist die Wasser Quelle, die fast die Hälfte der Erdbevölkerung mit Trinkwasser versorgt. Am 29. Oktober wollen wir versuchen, den Guinness Buch Rekord für Bäume pflanzen in Ladakh zu brechen, als unser kleiner Beitrag für die Natur. Ich möchte Zangmo-la danken, der "Young Drukpa Association" (YDA) geholfen zu haben, die Basisarbeit für die Baumschule zu schaffen, wie auch den Mönchen aus Hemis und der gesamten YDA, auf den Feldern aktiv zu sein. Meine Anerkennung gilt auch allen Live to Love Gruppierungen weltweit für das Sammeln von Spenden. Ich danke euch allen für die liebende Unterstützung!
Ich möchte euch einladen, die Live to Love Website für weitere Details zu besuchen, da ich nicht so gut darin bin, die technischen Aspekte dieses wunderbaren Projektes zu erklären. Schließlich freue ich mich, wenn ihr alle mitmacht, entweder durch persönliche Teilnahme oder durch Spenden für das Baumpflanzen. Dies muss eine gemeinsame Anstrengung aller werden, da wir alle ein Heim, eine Erde miteinander teilen.
.
.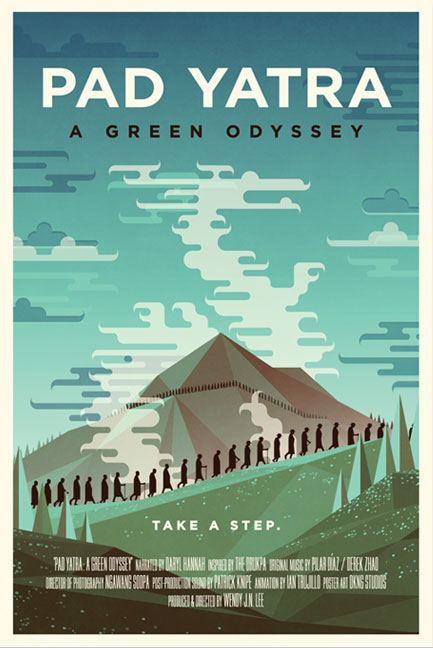 .
"PAD YATRA – A Green Odyssey" wurde am 16. März in einer privaten Show mit geladenen Gästen in der British Academy of Film and Television Arts (BAFTA) unter Anwesenheit                       Seiner Heiligkeit und Michelle Yeoh, der Welt-Botschafterin für Live to Love, gezeigt.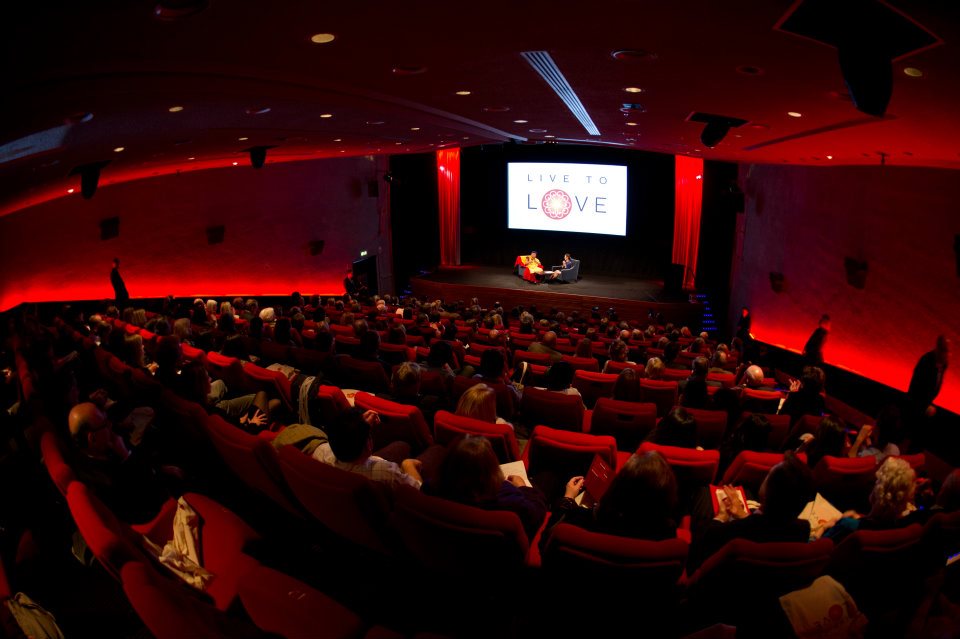 Der Film zeigt am Beispiel zweier Pilgerwanderungen in den Himalayas in beeindruckender Weise, daß Mitgefühl und ein Leben unter ökologischen Gesichtspunkten, Umweltverschmutzung zu vermeiden, untrennbar sind.
Hier ein Vorgeschmack:   Trailer:   http://www.padyatrafilm.com
  .
.
Dann ist vor kurzem das neue Buch Seiner Heiligkeit erschienen: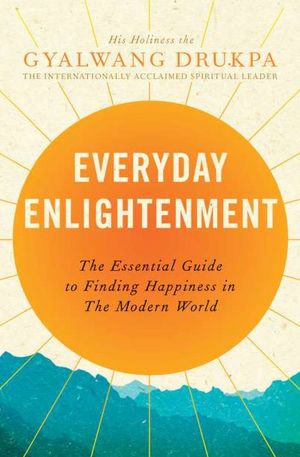 An engaging and practical guide to finding hapiness today, written by one of the most influential Buddhist leaders in the world.
"I love the modern world; we have so many opportunities to be generous and inspire each other," writes His Holi­ness the Gyalwang Drukpa in Everyday Enlightenment. And in this simple, powerful book based on ancient Bud­dhist teachings but framed to be relevant in today's world, the Drukpa outlines ways for all to find that generosity and inspiration in themselves.
As head of the thousand-year-old Drukpa Order, the Drukpa uses Buddhist practices to aid people who feel lost or uncertain, or who want to slow the pace of life and attend to the world around them more thoughtfully. He divides the book into sections including "The Un­common Path," "Walking Your Path," and "Overcom­ing Obstacles Along Your Way," and delineates ways in which readers can absorb into their lives Buddhist teach­ings that will allow them to choose to live more fully.
Clear and accessible, optimistic and profound, Everyday Enlightenment is essential reading for all those who want to improve their life by following a different, more meaning­ful life path.
.